Bune: Your path to riches
Posted by

Categories

Demon Seal

Date

October 20, 2015
Who do you turn to when you need help with finances? Many of us who practice demonology and occultism turn to the Goetia Demon Bune for assistance. Bune is known to help you find the extra money and resources to help you pay the bills, and sometimes,  find a little extra cash for you to live it up!
Bune:
(Sometimes known as Bim)
Male

Note: some of you may experience Bune as female

Leads 30 Legions
Strong Duke – A most powerful demon, and one of the Grand Dukes of the infernal regions.
Some say Bune appears as a man. Others say Bune appears as a dragon with three heads. One head of a dog, second one of a Griffon and the third one of a man.
Some say Bune speaks quietly or by signs, and the Goetia states he speaks "he speaketh with a high & comely voice." (You will find out when you evoke Bune)
He removes (and moves) corpses, haunts cemeteries, and marshals the demons around the tombs and places of the dead.
Bune is the 26th Goetia Demon
He has two lamens/seals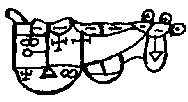 What can Bune do for you?
Gives wealth to those who serve him
Helps you pay your bills
Help make you wiser
Answers to all questions, (but is silently spoken or speaks by signs)
Changing the places of the dead is useful in Necromantic works. To exorcise a spirit, Bune, Murmur, Gamigin, or Bifrons can help you. These spirits have an affinity with the dead, and are useful in gathering information that reveals why a shade is able to haunt a person. They also have authority over the dead, and can aid in sending them back to the Earth where they belong.
Recommend for those who write, speak publicly, or teach. Help you com more eloquent (speak better)
Who works with Bune?
Witches and occultist who work with Bune, often work with Bune's legions – who are called called Bunies, and are regarded as exceedingly evil by religious folks.  The Bunies powers are great and their numbers immense.
Bune is a demon who looks after the dead, along with Murmur (who looks after the souls.)
Quotes from Other Sources about Bune

"Bune – A Great Duke of Hell, mighty and strong, who has thirty legions of demons under his command.  He changes the place of the dead and makes their demons that are under his power to gather together upon those sepulchres.  Bune makes men eloquent and wise, and gives true answers to their demands and also richness.  He speaks with a comely high voice.  Bune is depicted as a three-headed dragon, being his heads like those of a dog, a griffin, and a man (although according to some grimoires he has two heads like a dragon and the third like a man). Other spellings: Bime, Bimé. "

– Source: Wikipedia
"Bune – Grand Duke of the infernal regions. He speaks only by sign. His form is that of a man. He removes corpses, haunts cemeteries, and marshals the demons around tombs and the places of the dead. Commander of thirty infernal legions. He enriches and renders eloquent those who serve him. The demons under his authority are called Bunis, and regarded by the Tatars as exceedingly evil. Their power is great and their number immense. But their sorcerers are ever in communication with these demons by means of whom they carry on their dark practices. He has also been depicted as a three-headed dragon, the heads being respectively those of a dog, griffin and man. "

– Source: BWC
What other demon can help me with money and wealth?
Clauneck is my next recommendation for money work.
Suggestions from WWD Students
Student D – 613 Suggested: For anyone interested in Bune, I made this video today. It is only 5 minutes long (so if you want to make it go longer, right click on video screen and choose 'loop').
Start at the centre of the spiral as you invoke or evoke Bune. Best to listen with headphones. Make sure video is on HD.
References:
"Bune – (Unk) One of Wierius' demons of death. " – Source: The Complete Book of Demonolatry S. Connolly – http://amzn.to/2dVM1qQ
BWC – http://blackwitchcoven.com/demonology/demons-to-worship/bune/
Bune – http://www.occultopedia.com/b/bune.htm
Save
Save
Save
Save
Save
Save
Save