Working With Demons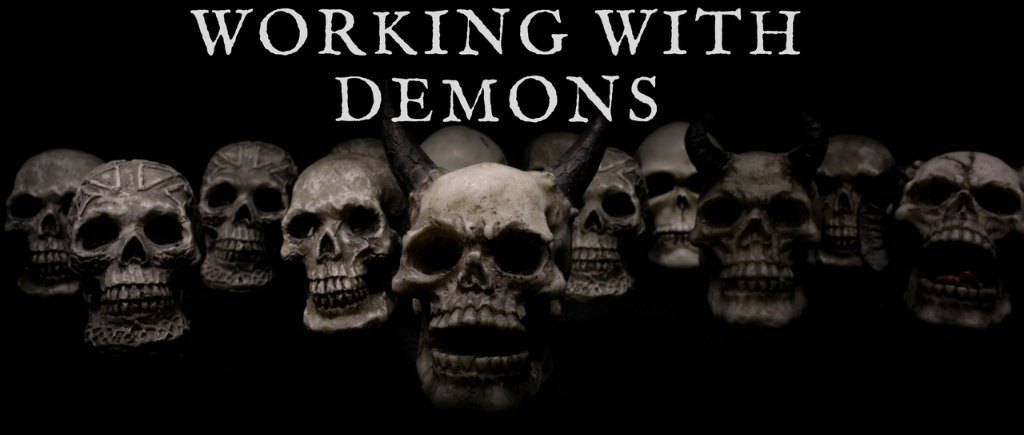 Learn from the Original Creator of the Foil Method of Entity Evocation
"I have been using my own method of contacting demons, spirits, and entities for over 2 decades. In 2015, I decided to share my secret method with those who also desire an EASY and FAST TRACKED method for demon contact.
Now, in this course, I will teach you the foil method of demon evocation, plus many other techniques I use for success. The foil method was not used ever before,  by any other occultist. I will explain to you the theory of why this method works, and how you can "tweak" this method for your own specific results."
Black Witch S

COURSE DESCRIPTION
This course was created to teach students my own person style of demonolatry. These easy to follow and simple unique methods will truly advance your connection to the "other side". The goal is to make contact with the demon/s, for the purpose of submitting your own magickal requests. A true working relationship.
Why is this course unique?
No body has ever used this method for spiritual contact – ever! If you see it anywhere else – they have copied it from me 😉
It can help even a new person to daemon connection achieve their goals.
CERTIFICATION
Is available for students who participate in the course discussions and/or submit a final report on their experience/s.
LEARNING OUTCOMES
Video lessons to watch at your convenience.
Never-before-shared techniques for connecting with Spirits and Demons.
AWESOME Facebook Group for Course Students ONLY
Private FORUM page
BWS personally answers your questions.
Mobile convenience on your phone, tablet, or computer.
Includes 12 months access to course and FB Group
Includes instant access to over $400 of Occult Books
NOTE:
These are my videos and methods for how I contact demons. Instead of showing these on YouTube, I am only offering the content to members of this course.
You will not be able to go back to Thinking demons and spirits are just constructs of the mind. The information presented in this course, and by other students taking this course, prove without any doubts, that Demons are living here on this plane and are ready to interact with us.
It was created for you, the person who wants a down to earth, no BS approach to demon work. The videos are raw, the workbooks will be more of a note style. If this is not what you are looking for in a course, I can recommend fellow demonologist E.A Koettings' materials as well – Click Here

WARNING – BEFORE YOU CONSIDER ENROLLING IN THIS COURSE:
You cannot take this course if you're under 18 years old. You may be required to prove your age before course admission is accepted.

Once you purchase this course, you will NOT be issued a refund for any reason should you change your mind. 

You need to access this course via a computer and NOT your phone. If you do not have access to a computer DO NOT buy this course.
FACEBOOK GROUP:
The assumption is that YOU are an adult, who does not need the supervision of other adults when discussing topics in groups. If there is a point of view which makes you feel uncomfortable, you can handle this yourself.
BWC also assumes you are of sound mental health and not suffering from Clinical Depression, Schizophrenia, or any other mental illness at the time of enrollment.
It will be at the discretion of the black witch coven admins to remove any person in this course or from the #WWD FB group who does any of the following:
Stalking other members
Harassing other members
Writes obnoxious, rude, insulting, and/or insensitive comments
Removes any content from this course or from the Facebook page, for the purposes of posting it somewhere else. Privacy is key.
Once you are removed, you will not be refunded, and due to past issues with allowing assholes back into the group who have reoffended, banning is now for life.
How to Enroll?
First, register for site access – click "Register Now"
Check your email for your password
Click Buy This Course
The course will appear in your Profile
ISSUES? We are here to help you Monday to Friday during work hours. Please email us and we will get back with you within 24 to 48 business hours.
NOTE – Once you purchase this course, you will NOT be issued a refund for any reason should you change your mind. 
Course Features
Lectures

41

Quizzes

0

Duration

30 hours

Skill level

All level

Language

English

Students

178

Assessments

Yes
INTRODUCTION

Your introduction into this 10 week course on how you can work with the demons of the Goetia without fear.

Week 1 - Demon Research

We all have our own reason for working with demons. Rather than BWC tell you what demons to work with, you will discover which demons desire to work with YOU!

Week 2 - The "Foil" Method of Demon Summoning

A demons sigil is the unique fingerprint of that spiritual entity. Learn a new method of connection, that could be your breakthrough to connecting with the demonic world.

Week 3 - DIVINATION TOOLS FOR DEMON COMMUNICATION

How do you receive feedback from the demons? In this lesson you will learn several methods.

Week 4 - Altars for Demon Worship

What are the different types of altars you can use in your practices & how to set up your dark temple

Week 5 - Temples for Demon Worship

Week 6 - The "Safety Method" of Demon Summoning

A more formal ritual of summoning demons, using a modified LHP ritual.

Week 8 - Offerings and Praise

You may wish to view some

Week 9: Sexual Connection with Demons

From sexual offerings for rituals and spells to sexual relationships, sex magick is an extremely powerful tool when working with demons.

Week 10: Spell Casting with Demons

QUESTIONS

HELPFUL REFERENCE GUIDES

New Videos

I will add new videos and content here - come back and check this section often