ELIGOR aka ELIGOS
Also known as "ABIGOR"
……is good for court cases and legal affairs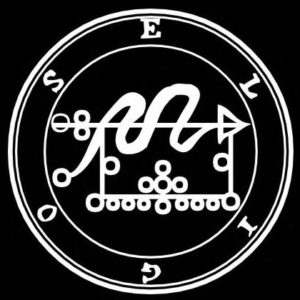 Eligos is a Day Demon and rules 60 legions of spirits
What can you ask from
Eligos

?
He grants favor in court cases and legal affairs

Attracts business and financial success.

He creates love and lust

Can cause war and marshals armies.

He discovers hidden things.

He also attracts the favor of lords, knights and other important persons.
Appearance
He is depicted in the form of a godly knight carrying a lance, an ensign and a sceptre (a serpent to Aleister Crowley).

Alternatively he is depicted as a ghostly spectre, sometimes riding a semi-skeletal (sometimes winged) horse, or the Steed of Abigor. This is a minion of Hell itself, and was a gift from Beelzebub. It was created from the remains of one of the horses of the Garden of Eden.
About:
Ruler: ZIMINAR
Rank: Duke (Dux)
Planet: Venus
Element: Water
Direction: North
Metal: Copper
Color: Green
Incense: Sandalwood
Corresponding Angel:

»

HARIEL
Zodiac Position: 10-14 degrees of Gemini
June 1st-5th
Tarot Card: 9 of Swords
Candle color: Yellow
Plant: Thyme
Planet: Venus
Element: Air
Metal: Copper
Rank: Duke
What the Main Books Say…
The Fifteenth Spirit in Order is Eligos, a Great Duke, and appeareth in the form of a goodly Knight, carrying a Lance, an Ensign, and a Serpent. He discovereth hidden things, and knoweth things to come; and of Wars, and how the Soldiers will or shall meet. He causeth the Love of Lords and Great Persons. He governeth 60 Legions of Spirits. His Seal is this, etc.
Source: [» The Lesser Key of Solomon ]
The 15th spirit is called Eligor [Eligos], a great duke, he appeareth in [the] form of a goodly knight carring a lance an Ensigne & a serpent, he discovereth hidden Things & knoweth things to come, & of warres and how the soulders will & shall meet, he causeth the love of Lords and great persons, and governeth 60 Legions of spirits, his seal is this, wch wear or else he will not appear nor obey you &c.
Source: [» Ars Goetia ]
(12) Eligor, alias Abigor, is a great duke, and appeereth as a goodlie [handsome] knight, carrieng a lance, an ensigne, and a scepter: he answereth fullie of things hidden, and of warres, and how souldiers should meete: he knoweth things to come, and procureth the favour of lords and knights, governing sixtie legions of divels.
Source: [» Pseudomonarchia Daemonum ]
Eligos grants favor in court cases and legal affairs, and helps to attract business and financial success. He creates love and lust and causes war and marshals armies. He helps in discovering hidden things.

He is also known as "ABIGOR" . Abigor is skilled in secrets of war and prophecy.  Abigor has beautiful black wings with white highlights. He has a black aura around his head and large black eyes without irises. He also has two black markings like stripes on his cheeks.
Source: [» Serpentis666 ]
Eligos in Film & Print
In the television show Ash Vs. Evil Dead Eligos is a demon summoned using the Necronomicon ex Mortis in the episode "Books from Beyond" and is destroyed by Ash in the episode "The Host".
In the 2006 Dungeons & Dragons role-playing game supplement Tome of Magic: Pact, Shadow, and True Name Magic, Eligor is a "vestige" with whom characters can make a pact in return for power. He is depicted wearing armor, carrying a lance, and riding a half-horse/half-dragon.
Eligor appears in the video game Shin Megami Tensei: Nocturne as a recurring boss enemy and later as a recruitable demon. In Persona 3 he is one of the main character's usable personas. He is depicted in both games as a knight in red armor wielding a lance.
He appeared in the film Ghost Rider as a demon representing the element of air. He served Blackheart.
Eligor appears as a massive, armored centaur boss in Castlevania: Order of Ecclesia.
Final Fantasy VII features a monster named Eligor, who rides a chariot. He is found in the Train Graveyard in Midgar early in the game.
In the Buffy the Vampire Slayer episode "What's My Line, Part Two", Eligor is invoked by the vampire Spike as part of a ritual to restore the health of his lover, Drusilla.
Eligor is the protagonist of God's Demon, a novel by Wayne Barlowe.
Abigor is the name of a mobile suit in Mobile Suit Victory Gundam belonging to the Zanscare Empire.
Save
Save
Save