November 6, 2017 at 10:17 pm
#9730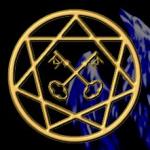 Claves R Custos
Participant
@Los_Thewitch I started making offerings to Clauneck, King Paimon, HM Lucifer, Phoenix and HM Astaroth some time ago. King Paimon and Clauneck were the first two. The others' offerings began. I typically offer incense, a small cup of wine/sake, whisky or cider between one and three times a week.
I don't feel "burdened" or "obliged" to do that in all honesty. After all, I DID ask Them to help me in these matters and to expect Them to assist me without compensation would be just a d*ck move, you know?
On Saturday, I attempted a candle reading specifically for the deal with The Nemeses. Here is what happened so far:
Attempted candle reading on 11-4-2017
I could not burn the whole candle down, as time was restricted.
I snuffed the flame, as per what I have read regarding proper candle handling.
Candle start: 6:21 PM
Candle end: 8:05 PM
Descriptions of the flame and smoke (With help, naturally)
Flame: approx. 1.5 inches high, 2 inches at times.
Flame shook upward twice.
Wick appeared to be "poking through" the right side of the flame.
When snuffed, the smoke rose in a single, solid white stream that lifted straight
up before curling into loose tangles, then dissipating.
I am still researching all of them for what they do, since I do have a few things I need to handle. The Nemeses, a court/inheritance thing that's gotten complicated since the deceased involved — my dad — was a musician. (thus, I must handle record/music stuff. THAT can't be handled until the inheritance junk is dealt with and the inheritance lawyer is asking a ridiculous price I can't afford).
The two ultimate goals? 1. My fiancée and I wish to move to Hawai'i (Back to Hawai'i for him. He won't need asthma medication down there).
2. My own dream of following in my dad's footsteps of being a musician and starting my own band. Like he did.