November 19, 2017 at 2:28 am
#9777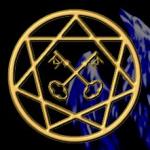 Claves R Custos
Participant
Thanks, Los_Thewitch. Sorry it took a minute to respond. The week has been filled with work of a more mundane nature and intense singing practice.
I continued with my candle burning (and yay, got to use the beautiful candle snuffer I got from Black Witch! :D).
Candle Burning 11-18-2017
Start: 6:04 PM
End: 7:04 PM
Flame was large, bright and at times, rose high, seeming to follow a stream of
smoke I could not see. The tip of the flame reminded me of a depiction
of a phoenix's tail I once heard the description of.
Candle wax melted into an odd ledge-like shape on the left side. No drippings
or wax-fall.
If the length of time per candle burning is what I'm trying to lean, an hour for each burn indicates either days, weeks or months. I'm inclined to go with "months" since as I mentioned, what I'm aiming for is kind of huge.
I'm loathe to think it could mean "years", honestly — I'm a little apprehensive of waiting yet another 15+ years for something in my life to come to fruition.